•Electricity Although we are nestled in the wilderness of Maine, we do offer electricity; albeit in a limited capacity. We have a generator that we run from 7:00 am to 9:00 am and 7:00 pm to 10:00 pm.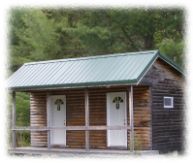 •Restrooms/Bath House There is a centrally located restroom and bath house available for use to anyone. The facility is amidst the campsites. There are separate quarters for Men and Women and offers a stall shower.
•Kitchen Facilities There will be a commercial kitchen available for everyone's use, but not abuse... when it is completed. It is located behind the recreation room in the main lodge.
•Recreation Room in the main lodge.
•Sauna There is no charge for its use. We only charge for the wood.
•Community Garden There is a community garden available to everyone during the summer months and anyone is more than welcome to weed at any time.
•Dumping Station
•Boat ramp