•Electricity Although we are nestled in the wilderness of Maine, we do offer electricity; albeit in a limited capacity. We have a generator that we run from 7:00 am to 9:00 am and 7:00 pm to 10:00 pm.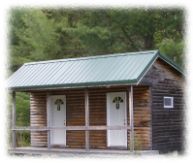 •Restrooms/Bath House There is a centrally located restroom and bath house available for use to anyone. The facility is amidst the campsites. There are separate quarters for Men and Women and offers a stall shower.
•Recreation Room in the main lodge.
•Dumping Station
•Boat ramp